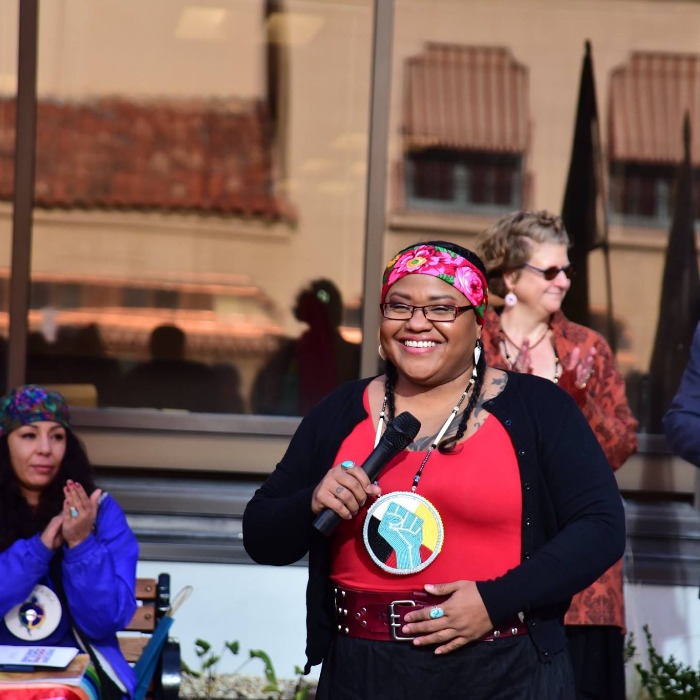 About
"The Storyteller" is Tai Simpson's name in the Indigenous language of the Nimiipuu nation (Nez Perce Tribe of Idaho). As a direct descendant of Chief Redheart, Tai takes great pride in serving her community as an organizer, activist, and advocate. Tai catalyzed her racial and social justice activism while studying Sociology and Political Philosophy & Public Law at Boise State University. Her experience at Boise State prepared her for the work she does in the community today. .
Tai is an organizer for the Indigenous Idaho Alliance. In 2018 and 2019, the Indigenous Idaho Alliance drafted the proclamations for Indigenous Peoples Day for the State of Idaho and the City of Boise. In 2020, the Alliance helped to draft HCR033 Concurrent Resolution acknowledging Missing & Murdered Indigenous Peoples Day that passed in the Idaho legislature in March of that year
As a Social Change Advocate with the Idaho Coalition Against Sexual & Domestic Violence, Tai focuses on violence prevention and response within Idaho's tribal communities. In 2019, Tai gave a TEDxBoise talk exploring the belief that Indigenous "old ways" need to come back in style, made new. The old ways are principles on which many Indigenous communities build their social and political narratives. As an antiracism activist and community leader, she uses contemporary and traditional Indigenous storytelling to depict the lens of "old ways" and how they protect the sacred, build strength in the community, and keep nature in balance; these principles support her work to champion radical inclusion, equity, and liberation.
Tai can be found on Instagram @TaiSimpson, via Facebook @Tai.Simpson.1, and at www.taisimpson.com